BAND : LUNA AD NOCTUM
ALBUM TITLE: 'Hypnotic Inferno'
FORMAT: CD
LABEL: Massacre Records
RECORDED: Hertz Studio 2010/11
RUNNING TIME: 39:24: minutes
MUSIC STYLE: Lunar Black Metal
HOMECOUNTRY: Poland
RELEASE DATE: 22.02.2013

LINE-UP:
AN6 – bass/voc
T.Infamous – guitars
Blasphemo – guitars
Dragor- drums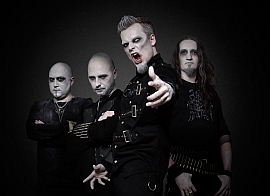 TRACKLIST:

1. In Hypnosis
2. Fear Technique
3. You Are What You Are...
4. Abnormal Pain
5. Fleshless
6. Ether Dome
7. Martyrium
8. Hallucination Twisted Claw
9. Total Sleep Disorder

ALBUM CONTENT
'Hypnotic Inferno' is a concept album focuses on human emotions caused by various experiences of ordinary people. Mental breakdown, neurosis and depression, inability to find in a simple, real world. The consequences associated with the use of psychoactive substances in no standard therapy. Reaching for different substances, intoxication until you cannot control self behavior. We are not able to distinguish reality from hallucinations and imaginary world. Drug intoxication, opium or ether, helps to fly somewhere far away into unexplored and incomprehensible perspectives. Apparently, it helps to feel better for some period of time, but as a result we become heartless, strange creature, farced by medications, zombie filled with incomprehensible, extreme emotions.
"Hypnotic Inferno" cumulates Luna Ad Noctum entire strengths! Brutality and precision straight out of deep dark forces, exalted melodies touched with passions of coldness, loveliness and eccentricit!.